Hayling Hackers performance on BBC 2's 'Eggheads' TV Show - Friday 15th April 2016
Hayling Hackers take BBC 2 eggheads to the final question. A team of quizzers from Hayling Golf Club took on the best quiz brains in Britain in early January and beat them on the final question. What was all the more remarkable was that Ben Stevenson, Terry Hailey, Bill John and Paul Wiltshire were all eliminated in the head to head rounds leaving only Phill Merron to take on the five eggheads in the final general knowledge round. Phill went first and answered his 3 question s correctly leaving the score at 3 to 2 with the eggheads to answer their 3rd question to go into a sudden death play off. After what seemed an eternity of debate on the part of the eggheads team they eventually answered their question - INCORRECTLY giving the win to our own Hackers. Jeremey Vine after the show, televised on April 15th, said 'this was a historic win as only 15 people in over 1500 shows had taken on the eggheads by themselves and won'.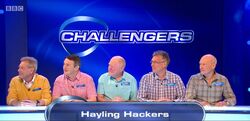 ---
Golf Rules Quiz Night - Wednesday 13th April 2016
This was the first quiz night we have run dedicated solely to the rules of golf, hosted by our very own golf referee Matt Williams and aided by Bill John and Keith Arnold! It was well attended with eight teams of 4 in total, competing against each other to test their golfing knowledge!
For all those who were not able to attend but are interested to test yourselves in the comfort of your own home we have posted the QUESTIONS and ANSWERS sheets here:
CLICK HERE to download and view the 'Golf Rules Quiz' Questions
CLICK HERE to down and view the 'Golf Rules Quiz' Answers
---
Captain's Drive-In - Sunday 10th April 2016
Jamie Leggett enjoyed a successful first day at his 'Captain's Drive-In' – the first event of the year for the new Captain! The Drive-In was at 9:00am where he was joined by Vet's Captain Barry Jones and Junior Captain Travis Kemp on the first tee (Lady Captain Alison Holland was away enjoying sunny Mauritius on the day so had a secret drive-in prior to the day). He even tempted the members to join him for support on the 1st tee with complimentary coffee and brandy on offer! There was then a round of golf shotgun style playing 'Mexican Stand-Off Scramble' format. After the golf Jamie entertained members with lunch, a short presentation about his Captain's Charity for the year and prizes for best rounds. Jamie's fund raising in his year as Captain will be towards the building of a 'halfway hut' on our course, this will also be the chosen charity for his Vice-Captain, Louis Galea. Our newly appointed Life-Member, Dougie Sharp, presented Jamie with a fine display of silver competition mementoes organised by Bill John which will be soon on display in the Clubhouse in the Solent Bar.
CLICK HERE to download and view the photos from the Drive-In.
---
Annual General Meeting - Saturday 9th April 2016
The Club AGM was held in record time this year – 35-minutes long! When Captain Richard Linsell handed over the reins to the incoming Captain Jamie Leggett. Prior to the meeting Richard presented a cheque for £5350.00 to the 'Hayling Island First Responders' who were his chosen charity for the year. President Cecil Dixon also stood down after three years and Nick Iacobucci took his place.
Louis Galea was welcomed as Vice-Captain while members Phil Stride and Peter Snell were elected to committee. There was some sadness that Alan Bryan, the Chairman, stood down due to work commitments.
Douglas Sharp, the club's longest serving member of over 60 years, was voted in to become a life member just ahead of his 92nd birthday.
CLICK HERE
to download and view the photos from the meeting.