GENERATION TROPHY - Fri 14th April 2017
CLICK HERE
to download and view full report & photos from the day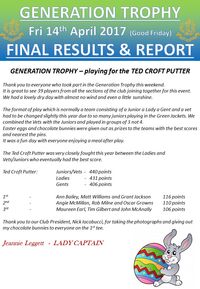 ---
CAPTAINS DRIVE-IN - Sun 23rd April 2017
CLICK HERE to download and view the full report & photos from the day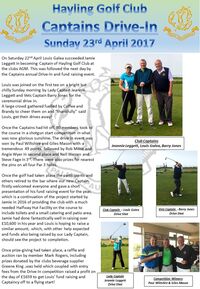 ---
LADIES DAILY MAIL FOURSOMES MATCH - April 2017
In April our Hayling Ladies were pitted against Southsea Ladies in the annual 'Daily Mail Foursomes' Event - the worlds largest tournament
The Southsea Ladies win at 5th extra hole...........after flag drama!
Southsea's Mandy Roberts and Cathy Youngman thought they were down and out at Hayling in the first round of The Daily Mail Foursomes only to sneak a victory at the fifth extra hole in testing conditions, writes Cara Sloman.
The pair were one down going to the last but had a lucky break when their opponents' ball struck the flag and flew off at a right angle, landing in a bunker. They went on to win the hole and force a play-off with Sandy Meyers and Linda Munday.
Roberts said: 'It was a bit of an epic. It was all drama on the 18th. We have never seen a ball do what it did there. All four of us looked at each other and thought this couldn't be happening.'
They were also battling the elements and fading light as the marathon play-off continued. 'It was dark, cold and windy. By the end we didn't care whose ball went down the hole, we just wanted one to go in,' said Roberts.
'It was laughable in places. At the second extra hole the wind was howling into our faces. The ball was going nowhere. We both had nines. We couldn't have played worse golf. The format does try you as a team but we came through it.'
The Portsmouth club only have 12 women members and this unexpected victory in the world's largest tournament became the talk of the club. 'Even our men said, "My God that was a good result at Hayling",' said Roberts.
'We were not expecting to do well. I thought if we just get round the first nine and we're not nine down I'll be more than happy. When it went all square at the 18th it was unbelievable. It was a good competition, fairly played with lovely ladies. We enjoyed it.'
The Daily Mail Foursomes is one of the greatest amateur tournaments. More than 190,000 players are involved in their club qualifying competitions each year and more than 3000 teams were included in the first-round draw.
The last 16 pairings in both the men's and women's events will fight it out for the two prestigious trophies. This year's finals take place at Marriott St Pierre, which has hosted the Solheim Cup and British Masters, in Chepstow, South Wales.
---
BMW CHALLENGE - Sat 1st April 2017