SUMMER BALL - 24th June 2017
CLICK HERE
to download and view the photos from the evening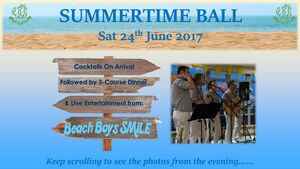 ---
14th HAYLING LADIES TROPHY FINAL - 15th June 2017
Gosport & Stokes Bay versus Hartley WintneyReport:
It was a warm, humid morning and at 9.30 a.m. we had a brief heavy shower, a hint of thunder and were concerned about lightning, however, the skies gradually brightened from the west and we were relieved when the Competition started as scheduled at 10.45 a.m. Gosport & Stokes Bay won the toss and elected to play first. Hayling Ladies always arrange for one of their more experienced players to accompany each of the 5 singles matches and a Chief Referee who is on call in case of a dispute over a ruling. The Teams set off as the wind really picked up making play difficult, Gosport in blue and Hartley Wintney in pink. The first match was won by Gosport, the second was all square on the 18th and set off down the first again. Meanwhile, Hartley Wintney won the third match, and some way behind the fourth and fifth matches were equally divided so the Competition was levelled at 2-2. Excitement was building in the Clubhouse as we watched from the upstairs lounge windows and through the telescope to see the second match still progressing down the second, third and fourth holes. The players, caddies, supporters and referees walked in exhausted but it wasn't evident who the winner was. Julia Johnson, the Hartley Wintney Organiser, was in shock when she learnt her team had won the Trophy after such a tight match. Much later than planned 40 plus guests from 9 Clubs sat down to lunch, Gosport (in white tops and blue scarves) and Hartley Wintney enjoyed Prosecco kindly provided by Julia. After a delicious meal Barbara Arnold, Captain of the Hayling Team, presented the Runner-up Salver to Gosport & Stokes Bay and Helen Rees, whose idea led to the Hayling Trophy Competition, presented the Trophy to Hartley Wintney. Julia thanked everyone involved and said she and her team were still surprised with their win. Gosport & Stokes Bay were gracious in defeat, having already been successful in this Competition, and presented a bouquet of turquoise lilies to Katie Fernandez which exactly matched the Hayling team colour.
Once again the Hayling Trophy has been a delightful competition enjoyed by all participants. We now have another new name on our Honours Board and we look forward to the next round in 2018.
---
MIXED OPEN - 18th June 2017
CLICK HERE
to download & view the results and photos from the day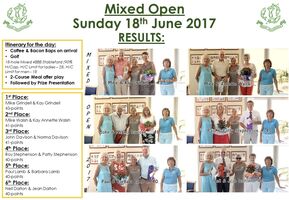 ---
MEN'S CLUB CHAMPIONSHIPS (aka GSB) - 10th & 11th June 2017
CLICK HERE
to download & view the results from the day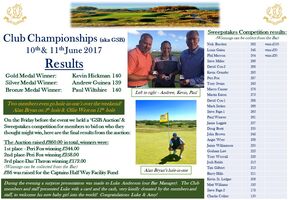 ---
LADIES CLUB CHAMPIONSHIPS (aka GSB) - 2nd & 3rd June 2017
CLICK HERE
to download & view the results & photos from the day