Latest Golfing Achievements by Hayling members
September 2023
CONGRATULATION to Raffi Dyer, 2023 'Hampshire County Champion' and 2023 'County Champion of Champions'!
Click below to find out more......
---
October 2022
COVERAGE IN HAYLING HERALD (Toby Burden's trophy wins, North Hants Trophy performance, HLGC fundraising efforts)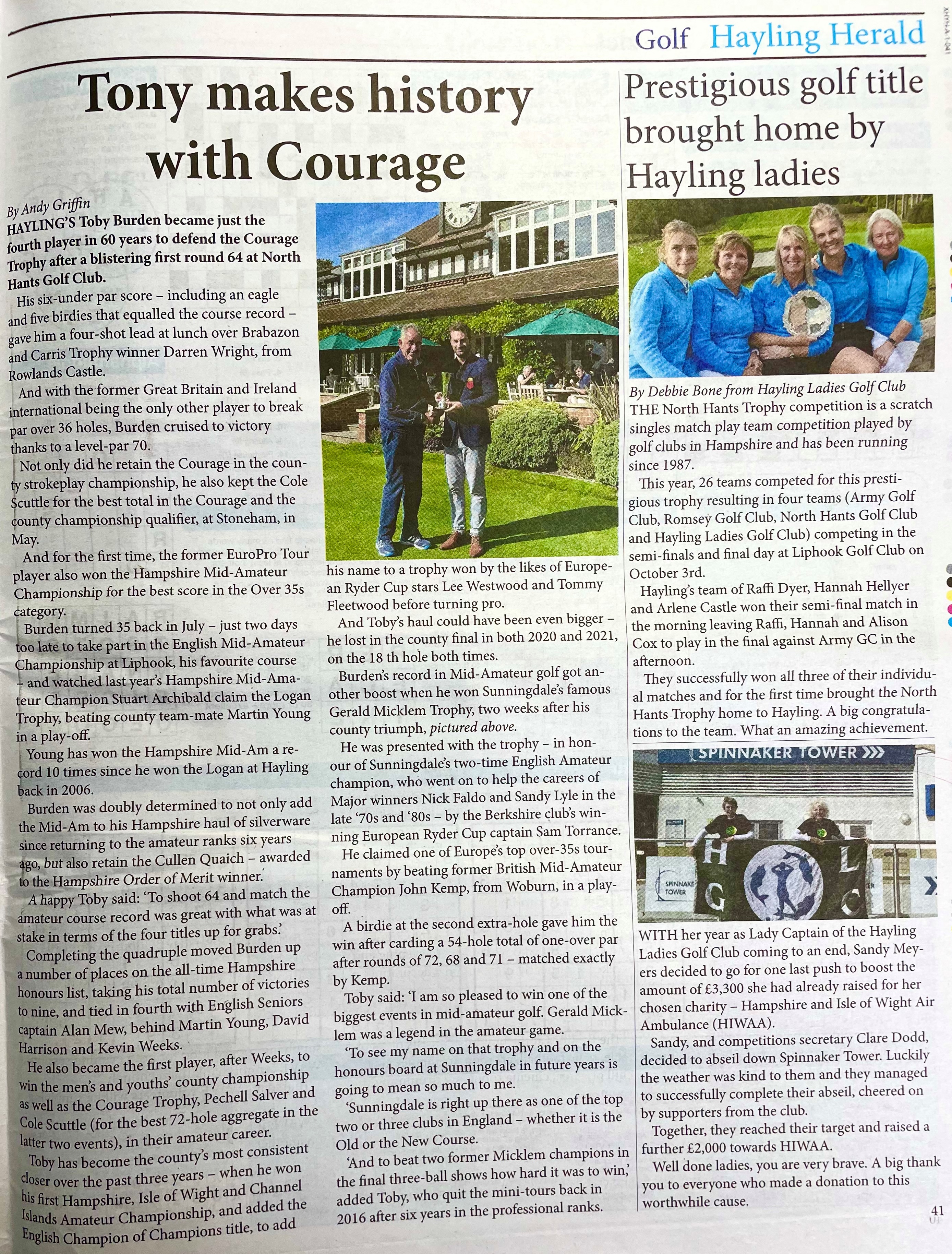 ---
29th September 2022
RAFFI DYER WINS THE HAMPSHIRE LADIES GOLF AUTUMN MEETING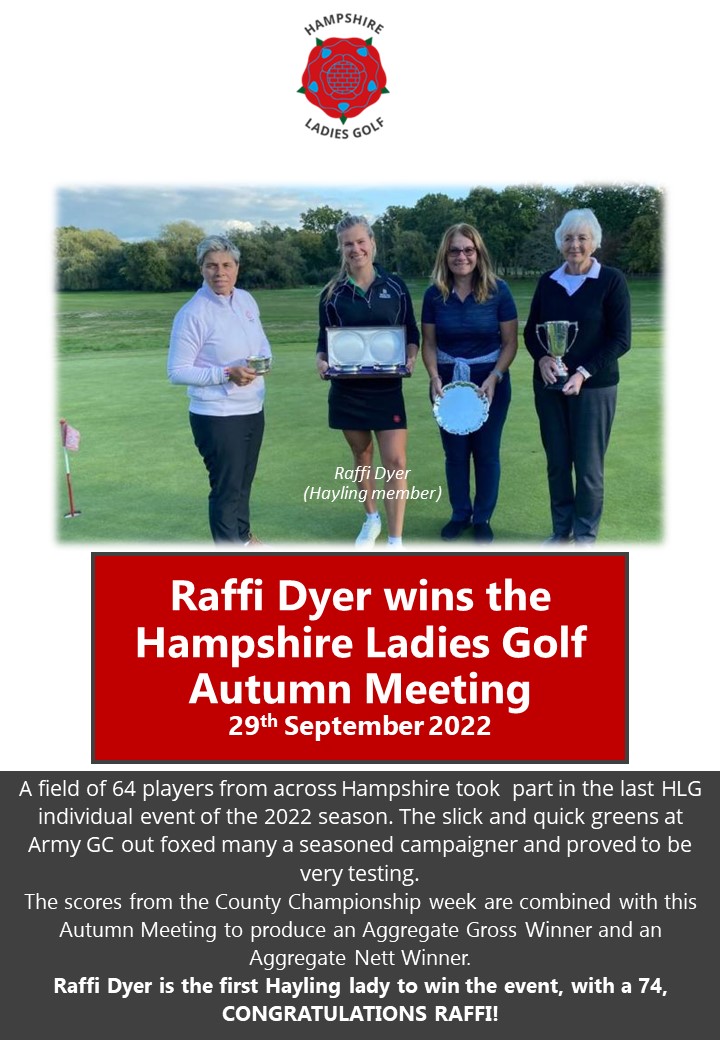 ---
3rd October 2022
NORTH HANTS TROPHY WINNERS - HAYLING!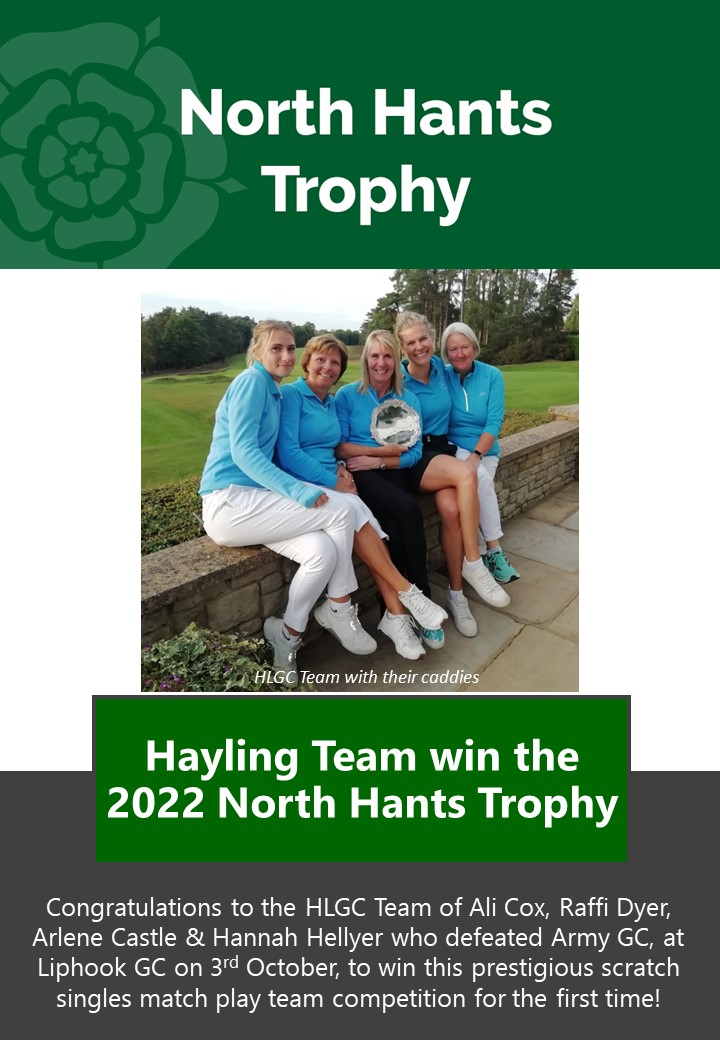 ---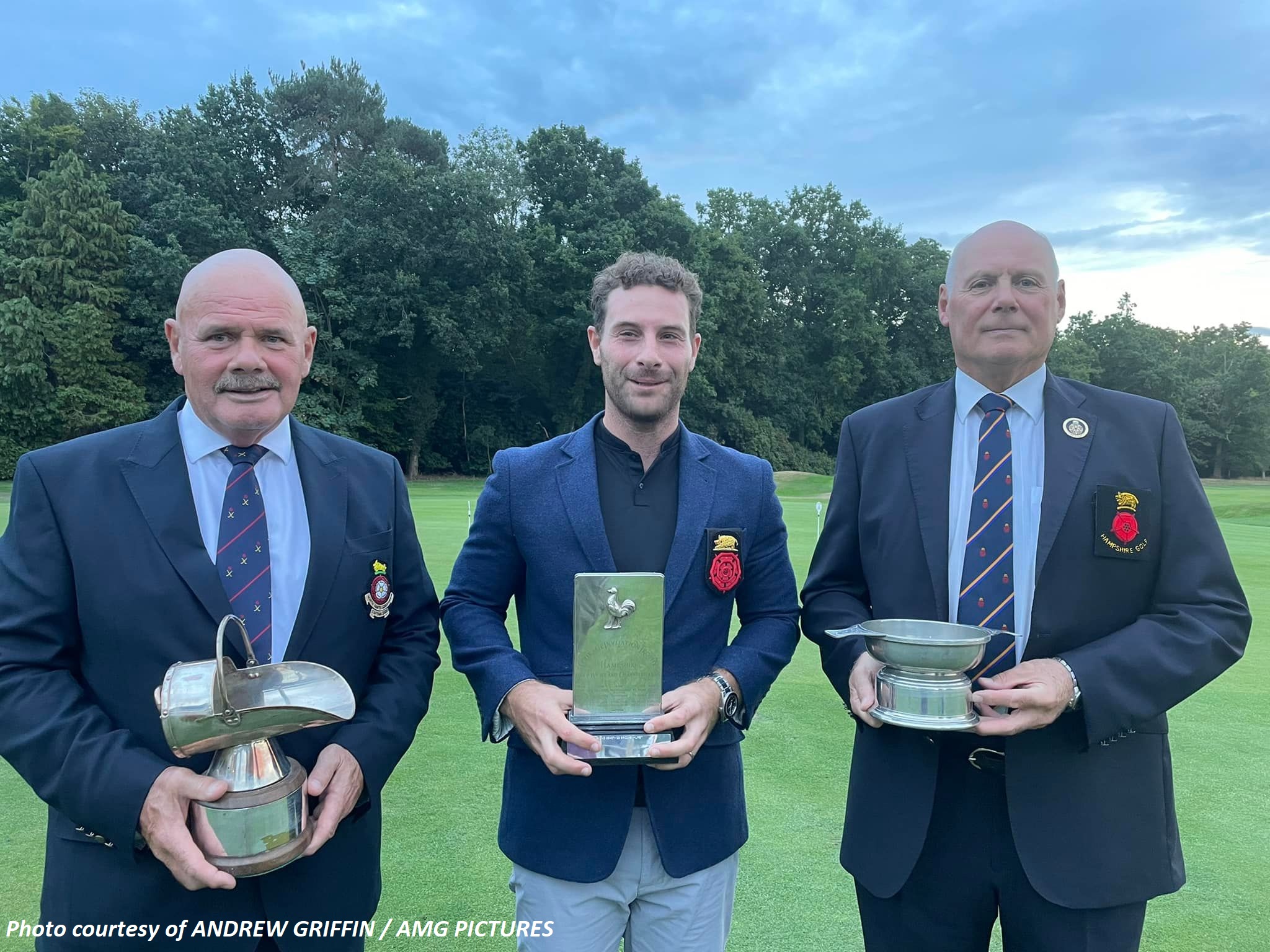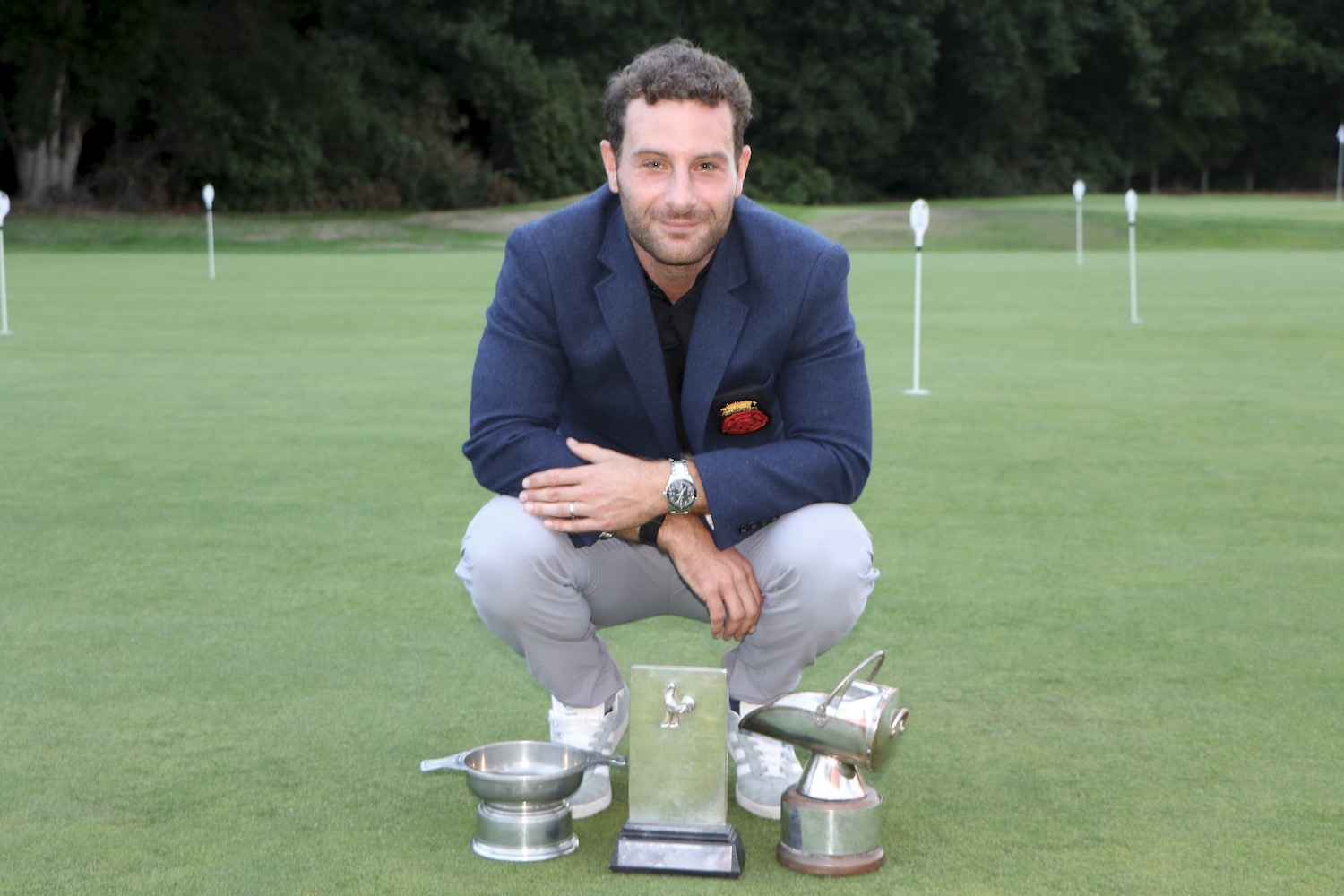 4th September 2022
TOBY BURDEN - CLEAN SWEEP!
Hayling Golf Club's Toby Burden claimed a clean sweep of the Courage Trophy, Cole Scuttle (best 72-hole score in county strokeplay and county championship qualifier) and the Hampshire Mid-Amateur (over 35s) titles! Toby's 64 in the morning equalled the amateur course record.
Results: https://www.hampshiregolf.org.uk/competition.php?compid=3540
Congratulations Toby!
---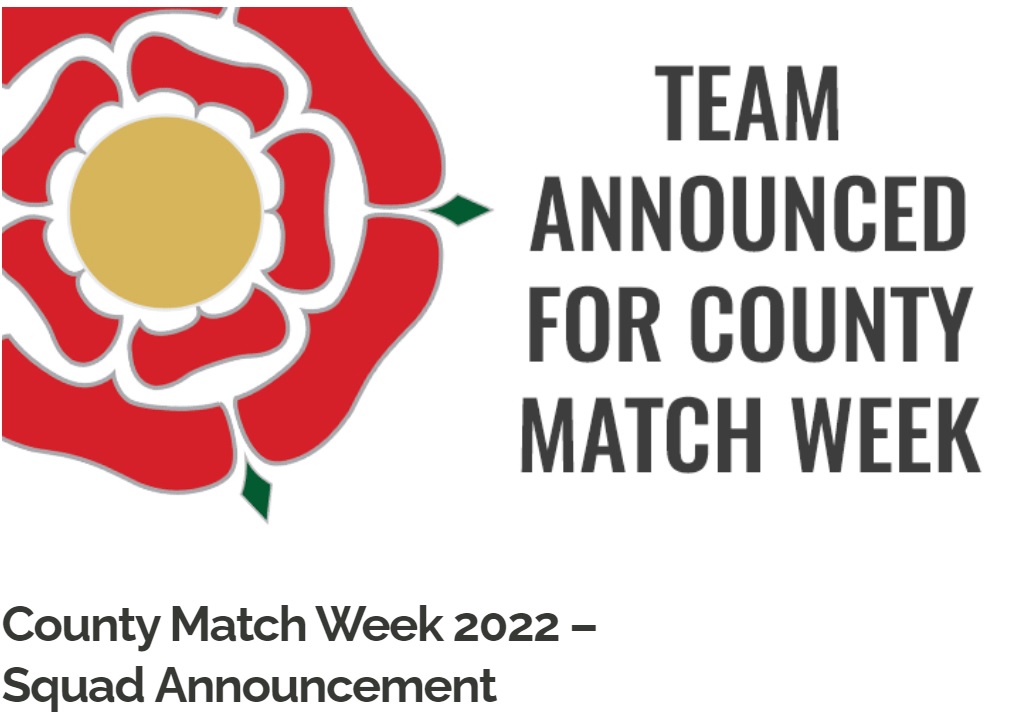 23rd May 2022
COUNTY MATCH WEEK - RAFFI DYER & HANNAH HELLYER SELECTED! CONGRATULATIONS!
At the conclusion of last week's County Championships at Alresford, Jill England, County Captain, announced her squad for the 2022 County Match Week as follows:-
Kerry Smith – Waterlooville
Jen Hide – Stoneham
Flora Keites – Royal Jersey
Emma Higgins – Brokenhurst
Louise Caplen – Stoneham
Aimee Paterson – North Hants
Amelia Williams – Barton on Sea
Raffi Dyer – Hayling
Hannah Hellyer – Hayling
This year's County Match Week will take place at Burhill GC, Surrey on the 27th to 29th June, spectators are welcome, find out more......
---
16th May 2022
TROPHY WIN BY SENIORS TEAM @ LIPHOOK (16th May 2022)
---
Hannah Hellyer competes in the Junior European Open Finals
Played in Spain on 20th & 27th November 2021, in association with Sky Sports, follow the results from the event at: https://www.golforganiser.com/leaderboard
---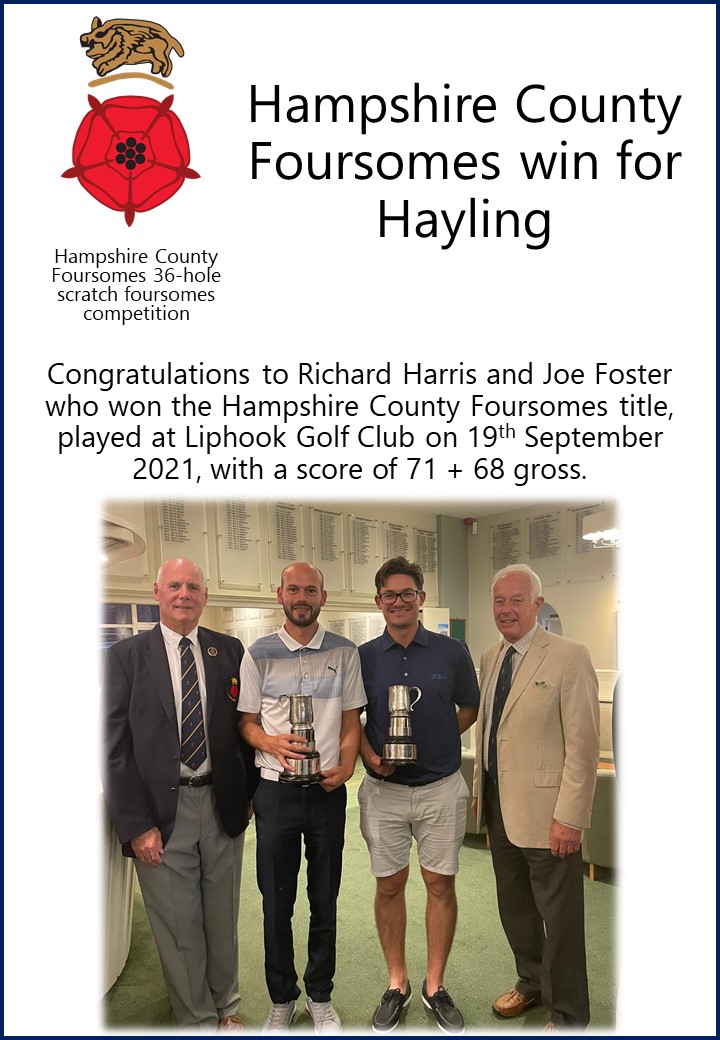 Hampshire County Foursomes win for Hayling
Congratulations to Richard Harris and Joe Foster who won the Hampshire County Foursomes title, played at Liphook Golf Club on 19th September 2021, with a score of 71 + 68 gross.
---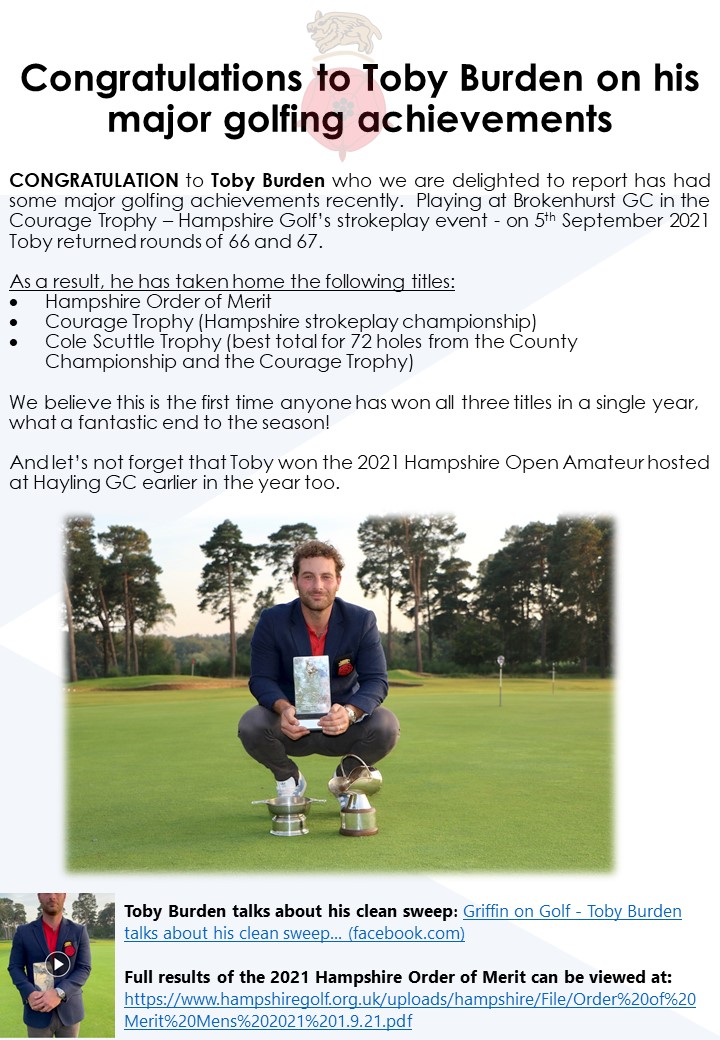 Hampshire Golf's Courage Trophy - major haul for Toby Burden
CONGRATULATION to Toby Burden who we are delighted to report has had some major golfing achievements recently. Playing at Brokenhurst GC in the Courage Trophy – Hampshire Golf's strokeplay event - on 5th September 2021 Toby returned rounds of 66 and 67.
As a result, he has taken home the following titles:
Hampshire Order of Merit
Courage Trophy (Hampshire strokeplay championship)
Cole Scuttle Trophy (best total for 72 holes from the County Championship and the Courage Trophy)
We believe this is the first time anyone has won all three titles in a single year, what a fantastic end to the season!
And let's not forget that Toby won the 2021 Hampshire Open Amateur hosted at Hayling GC earlier in the year too....read more
---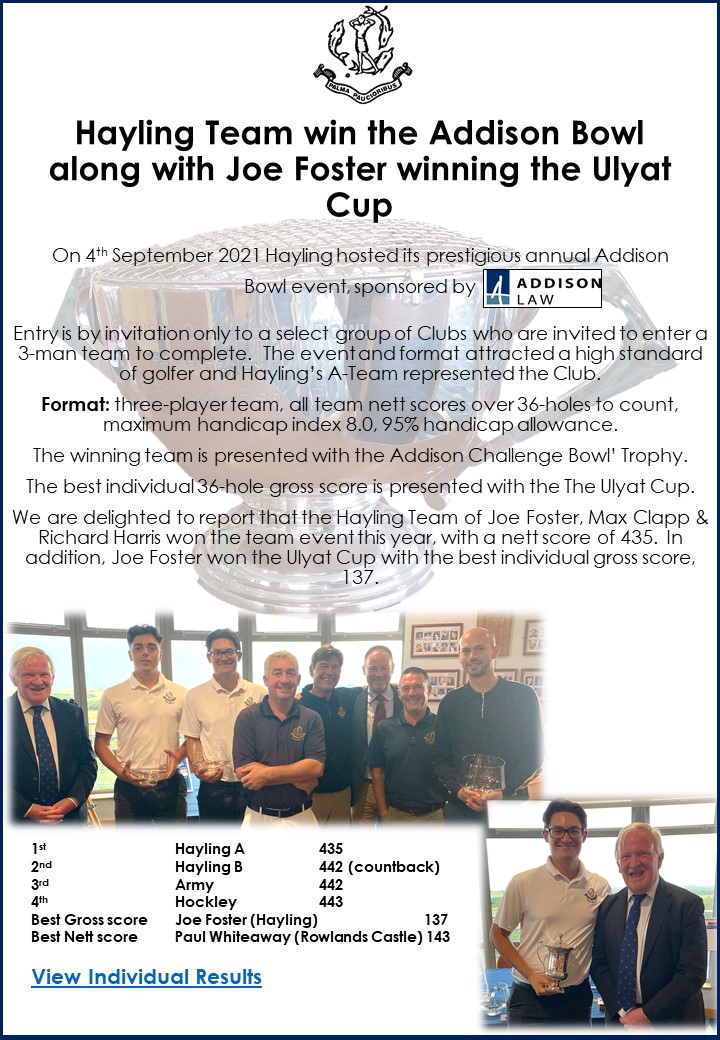 Addison Bowl
On 4th September 2021 Hayling hosted its prestigious annual Addison Bowl event, sponsored by ADDISON LAW. Entry is by invitation only to a select group of Clubs who are invited to enter a 3-man team to complete. The event and format attracted a high standard of golfer and Hayling's A-Team represented the Club.
Format: three-player team, all team nett scores over 36-holes to count, maximum handicap index 8.0, 95% handicap allowance.
The winning team is presented with the Addison Challenge Bowl' Trophy. The best individual 36-hole gross score is presented with the The Ulyat Cup.
We are delighted to report that the Hayling Team of Joe Foster, Max Clapp & Richard Harris won the team event this year, with a score of 435. In addition, Joe Foster won the Ulyat Cup with the best individual gross score, 137.
1st Hayling A 435
2nd Hayling B 442 (countback)
3rd Army 442
4th Hockley 443
Best Gross score Joe Foster (Hayling) 137
Best Nett score Paul Whiteaway (Rowlands Castle) 143
---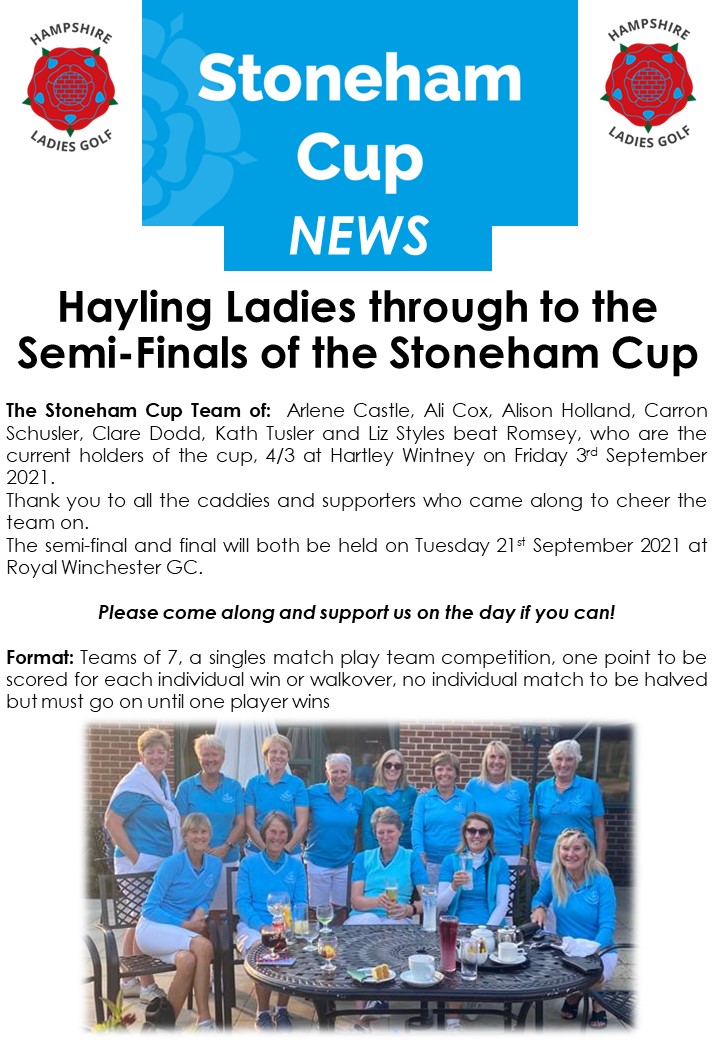 Stoneham Cup News - Hayling Ladies through to the Semi-Finals of the Stoneham Cup
The Stoneham Cup Team of: Arlene Castle, Ali Cox, Alison Holland, Carron Schusler, Clare Dodd, Kath Tusler and Liz Styles beat Romsey, who are the current holders of the cup, 4/3 at Hartley Wintney on Friday 3rd September 2021.
Thank you to all the caddies and supporters who came along to cheer the team on.
The semi-final and final will both be held on Tuesday 21st September 2021 at Royal Winchester GC.
Please come along and support us on the day if you can!
Format: Teams of 7, a singles match play team competition, one point to be scored for each individual win or walkover, no individual match to be halved but must go on until one player wins
---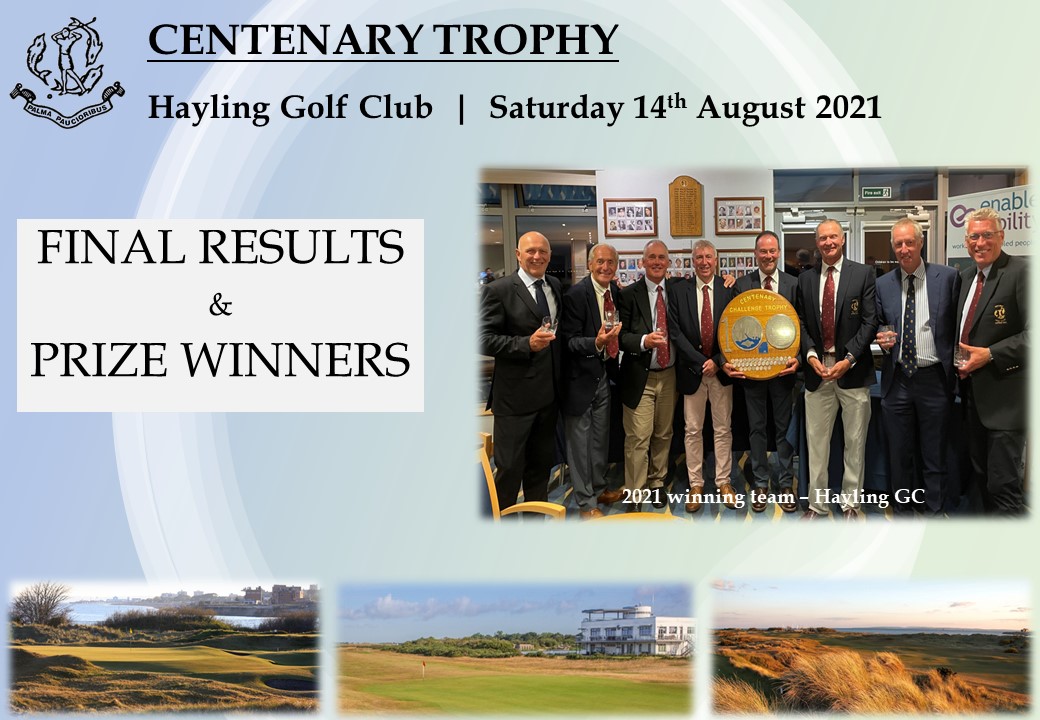 Centenary Trophy
On Saturday 14th August 2021 Hayling won the Centenary Trophy on our home links! The trophy is contested annually by 10 Hampshire clubs, all of whom were founded before 1900.
The winning team, with an aggregate score of 189, from left to right were: Alan Bryan (Vice-Captain), Richard Linsell, Matt Williams, Louis Galea, Rob Styles (Captain), David Cox, Neil Percival and Paul Wiltshire.
The best individual score from the competition also came from the Hayling Team, Matt Williams (35 on countback).
Click on the image above to view the full results from all competing teams.
---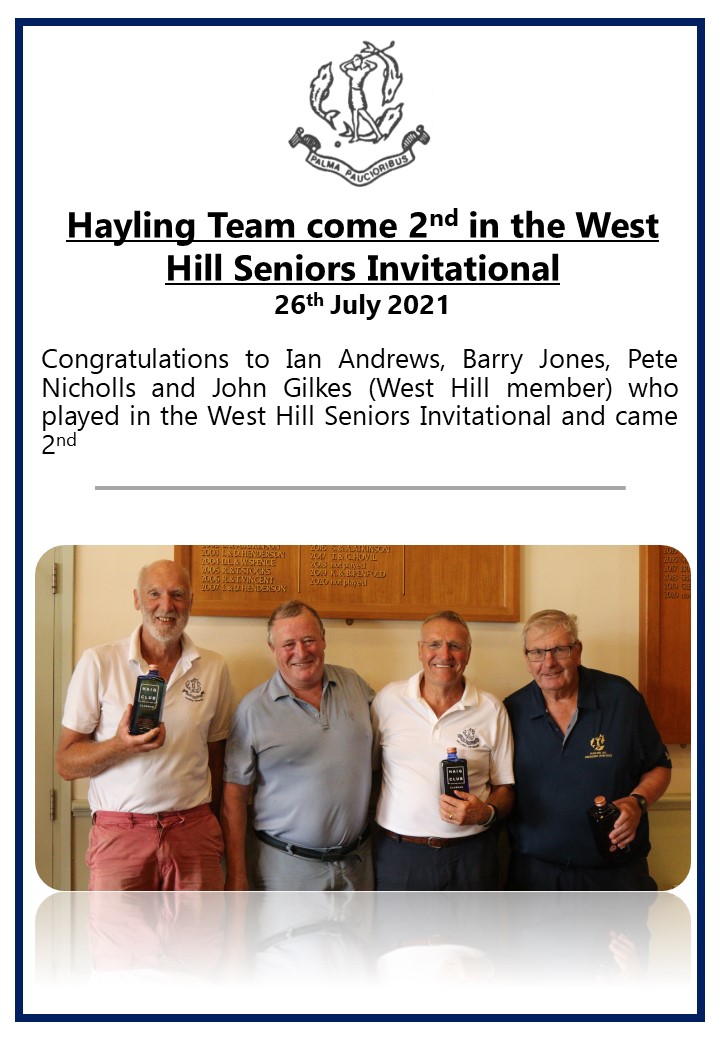 West Hill Seniors Invitational
Congratulations to Ian Andrews, Barry Jones, Pete Nicholls and John Gilkes (West Hill member) who played in the West Hill Seniors Invitational and came 2nd.
---
2021 CLUB CHAMPIONSHIPS
24th & 25th July 2021
Despite the threat of lightning over the two days, the Club Championships were completed without interruption. In a record low two round score, including equalling the course record of 63 in the first round, Toby Burden took the Gold Medal and Club Championship title for 2021 (gross 132). Max Clapp took the Silver Medal (net 140), his score included a hole in one on the 10th, and Nick Oatridge took the Bronze Medal (net 141).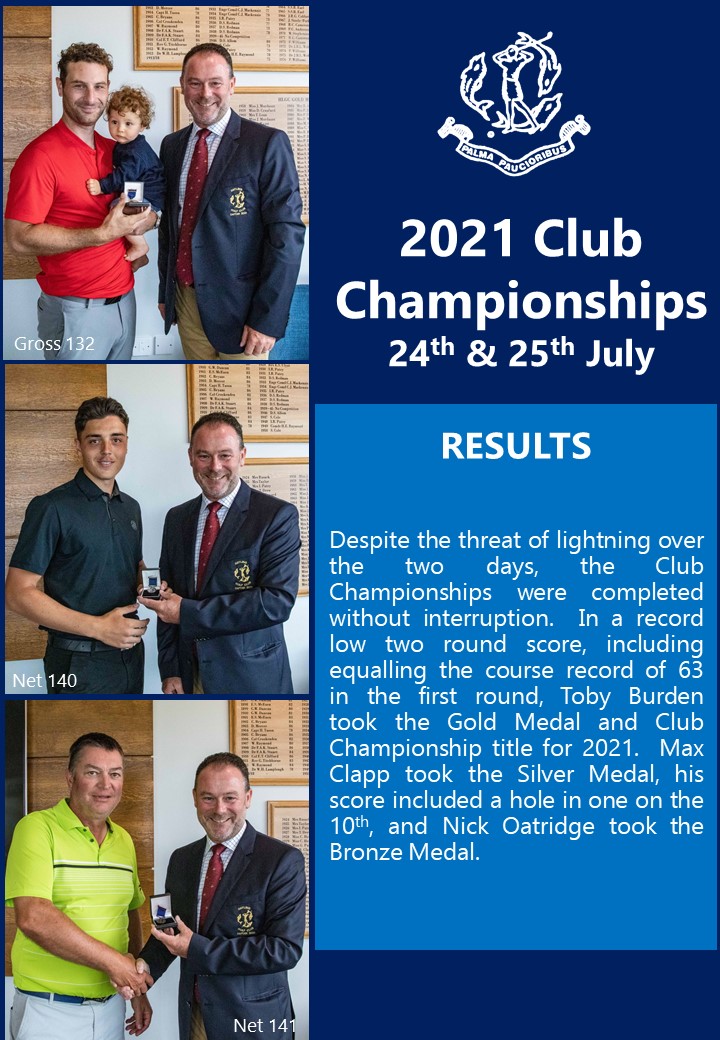 ---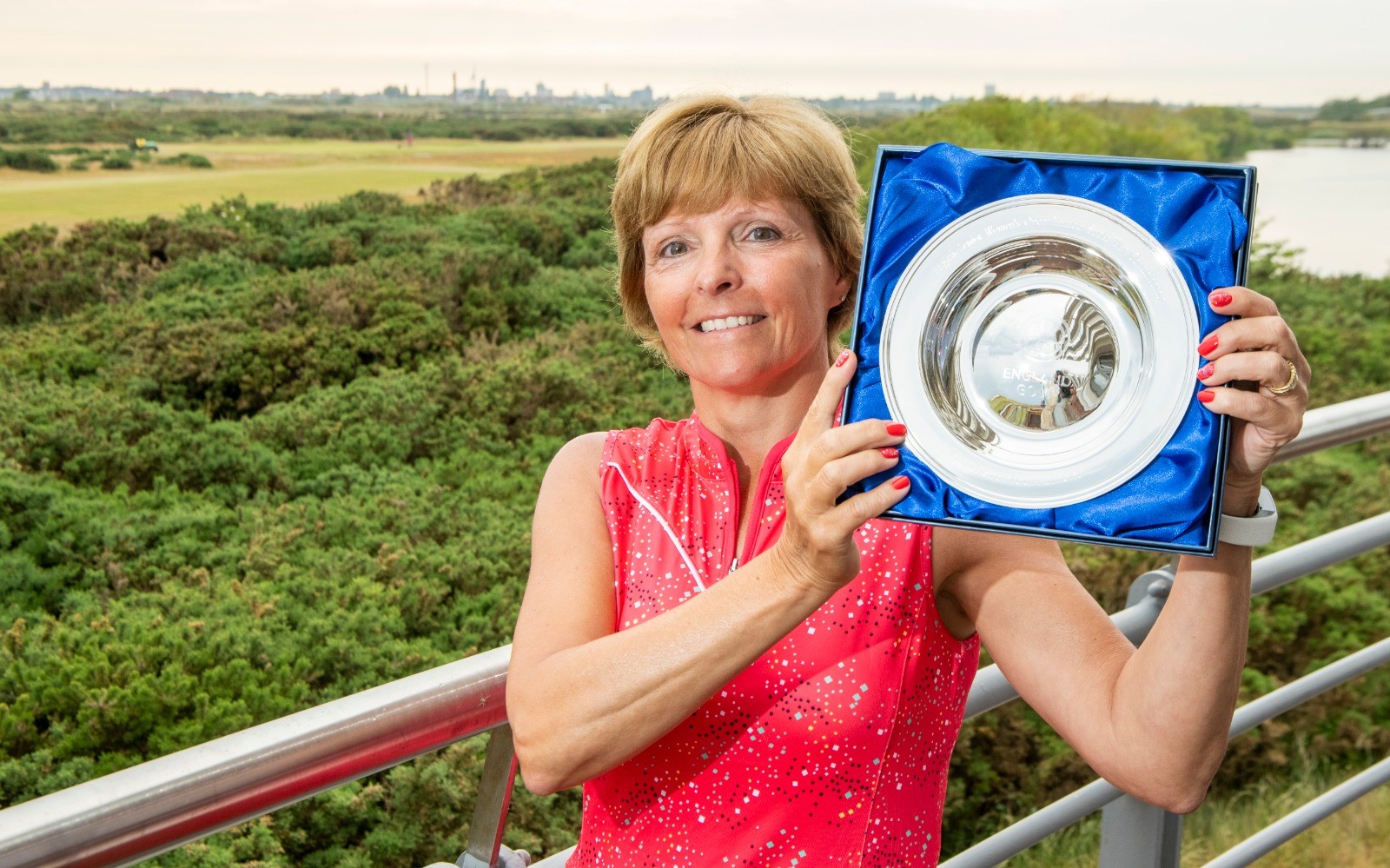 ENGLISH SENIOR WOMEN'S STROKE PLAY CHAMPIONSHIP
14th – 17th June 2021
The English Senior Women's Open Amateur Stroke Play Championship is open to golfers aged over 50 on the first day of the championship and is played by 54 holes of stroke play over three days.
18 holes are played on each of the first two days. After 36 holes the leading 45 competitors and all those tying for 45th place shall play a further 18 holes on the third day.
In addition to the main championship, the Handicap Competition shall consist of 36 holes of Stroke Play. One round of 18 holes shall be played on each of the first two days. The winner shall be the competitor who returns the lowest net score over 36 holes.
A huge congratulations to Alison Holland (Hayling GC) who won the Handicap Competition, with two great scores she finished 3 under and was the winner by 3 shots, taking the title of 'English Senior Women's Open Amateur Stroke Play Handicap Tournament Champion'.
Full results of both competitions can be found at: https://www.golfgenius.com/pages/3063083
---
St George's Hill Senior Team Invitational
Congratulations to Ian Andrews, Pete Nicholls, Robin Theodore and Philip Stride who played in the St George's Hill Senior Team Invitational on 22nd June 2021 and won the title! A first for Hayling. In addition, Robin came 2nd in the individual event.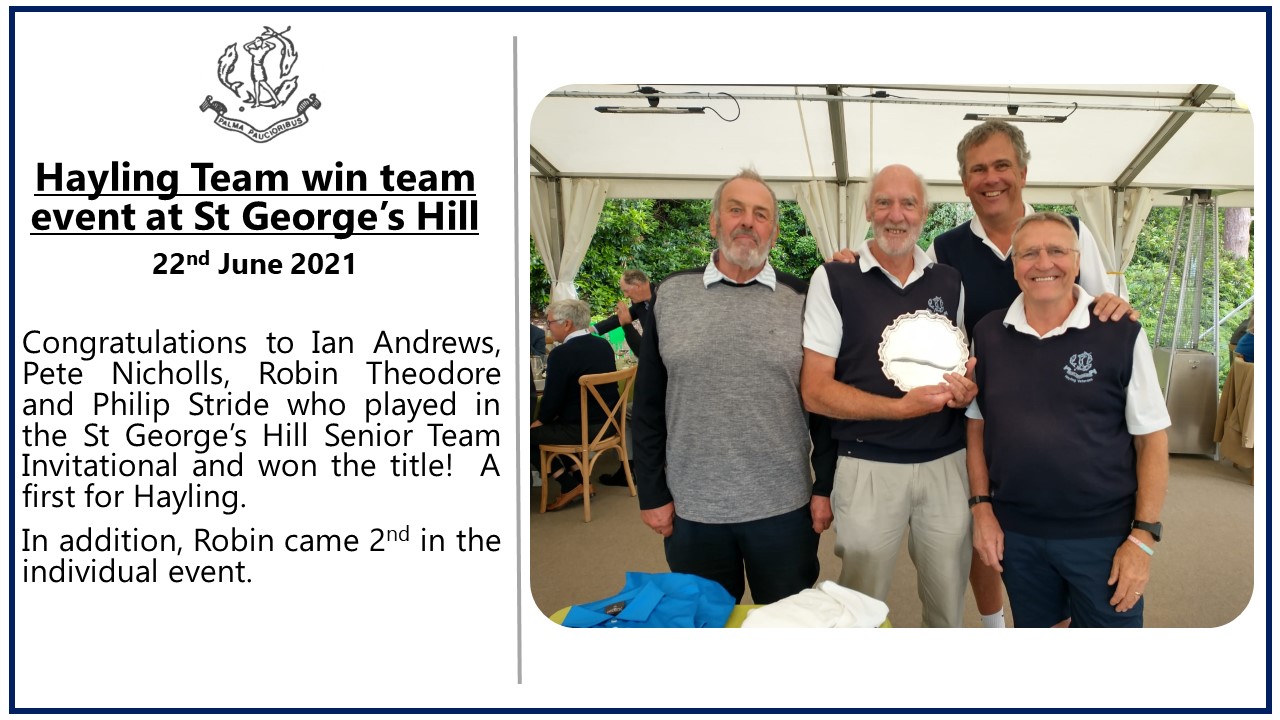 ---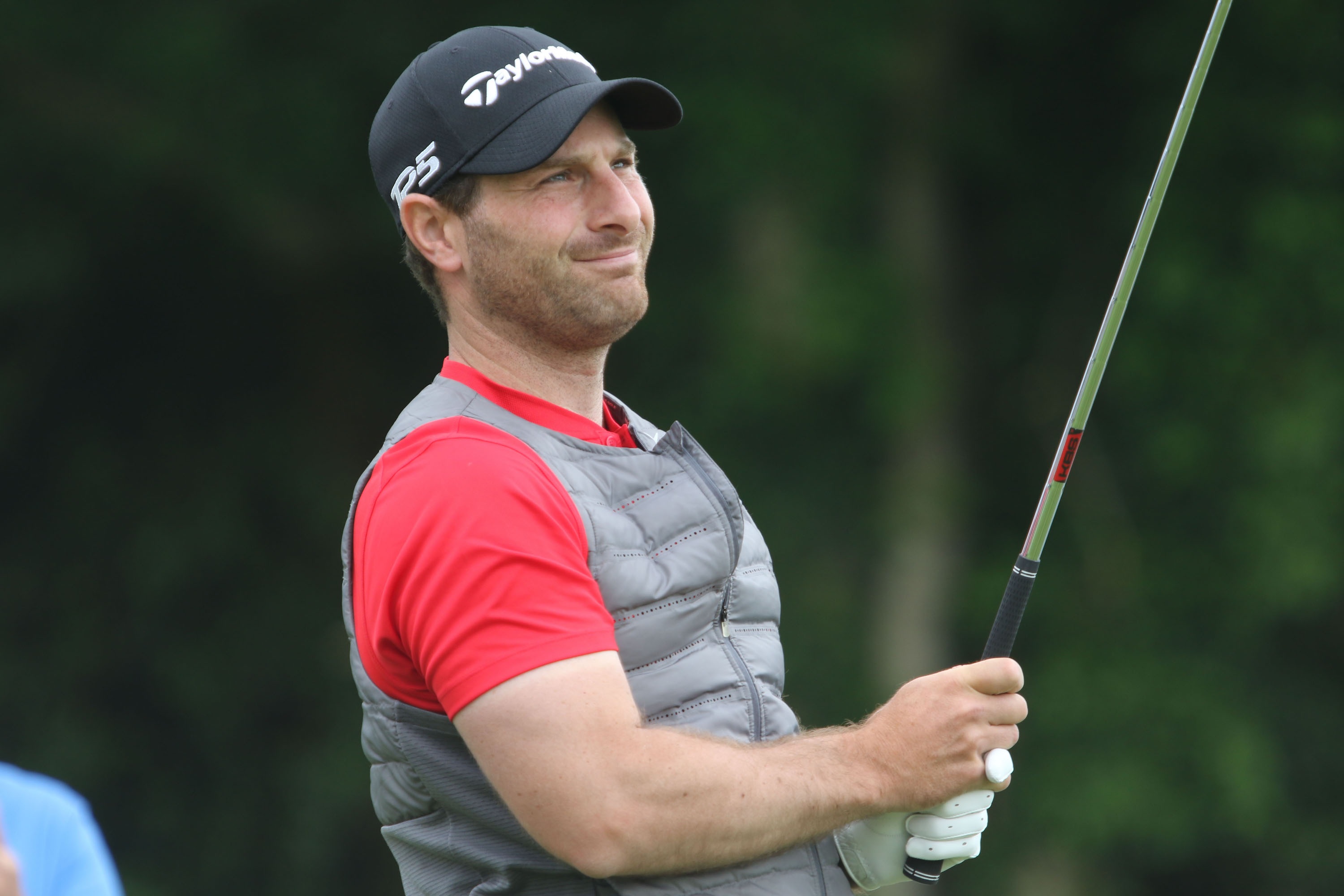 Hampshire, Isle of Wight and Channel Islands Amateur Championship
Well done to Toby Burden who reached the final in the Hampshire, Isle of Wight and Channel Islands Amateur Championship.
Read the news article on the Hampshire Golf website: https://www.hampshiregolf.org.uk/news_item?newsitem=1146
---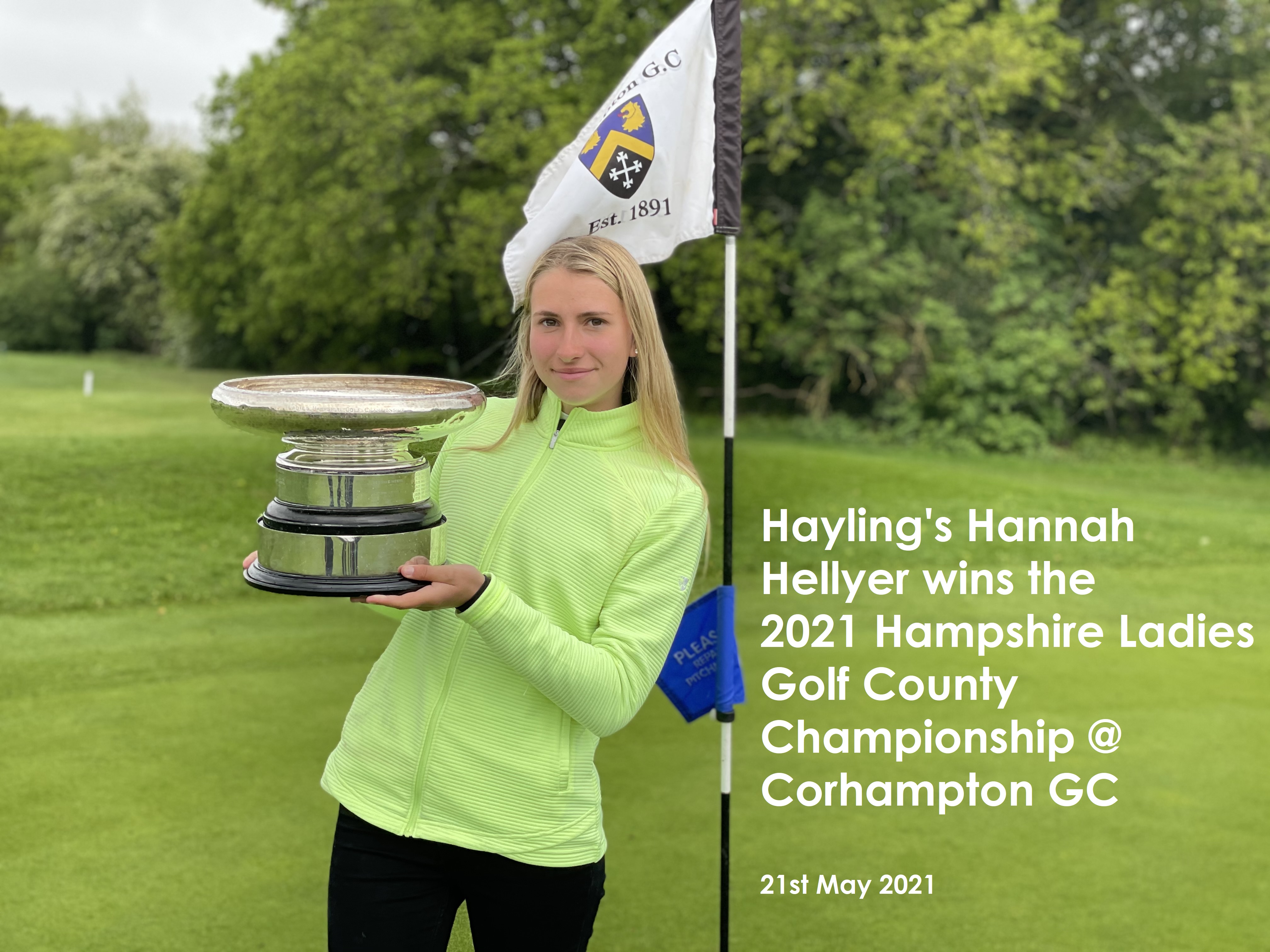 Hampshire Ladies Golf County Championship
Hannah Hellyer became the 2021 Hampshire County Champion after her victory at Corhampton on 21st May 2021. Some fantastic golf in a close match in very wet and windy conditions.
The last HLGC Hampshire County Champion was Mrs A Wells in 1982 and since 1925 the title has only been won 5 times by a HLGC member - we are so proud of her incredible achievement.
Following her title win Hannah now goes on to represent Hayling and Hampshire in the 'English Women's County Champion of Champions' competition, taking place at Woodhall Spa on 5th September 2021.